Low cost, non-exam life insurance for any pre-existing condition!!!
Direct Mail with FLIG and The Lead Connection


​

LIFE INSURANCE QUOTE​
MEDICARE QUOTE
CRITICAL ILLNESS QUOTE
Affordable Life Insurance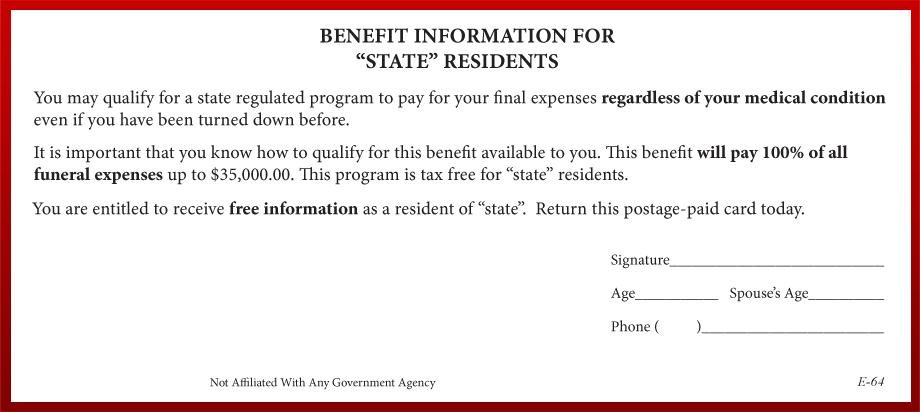 FLIG and The Lead Connection know how to generate leads in the final expense marketplace with targeted direct mail. FLIG and TLC will work with you to develop a direct mail lead strategy to meet your production goals and maximize your lead dollar. TLC has become expert at achieving high return rates that will produce consistent lead flow from qualified sources. Stock mailers, as seen below are available, and customized pieces suited to your specific needs can be designed. Direct mail leads are available at a flat rate of $28 per lead with a minimum order of 20 leads using the E-64 mailer shown below. Alternatively, you can receive the full result of a direct mail drop at a cost of $440 per 1000 pieces mailed. As always FLIG will help with incentives that will reduce your direct mail cost. See our current promotion.
NEW 2014 BENEFIT UPDATE FOR (STATE) CITIZENS AGES 50-85


​
You may qualify for a state-regulated Life Insurance Program designed to pay 100% of your funeral costs and your final expenses.
​
This program is

Easily Affordable,

can pay your family up to

$25,000

, and you may qualify Regardless of
Medical Condition , even if you have been turned down before.



For more information about this Low-Cost, ​​senior Life Insurance Program, fill out and mail this postage paid card today!!!

​​





​


Phone ( )____________________________

Age__________ Spouse's Age___________

Contact Person _______________________


E-179​​​